Earn
Maple Finance & AQRU
Earn up to 3% APY with Maple Finance & AQRU.
We've partnered with Maple Finance in our mission to make the high yields available on digital assets accessible to everyone. Invest in Maple Finance's Maven 11 institutional lending pools directly from the AQRU app.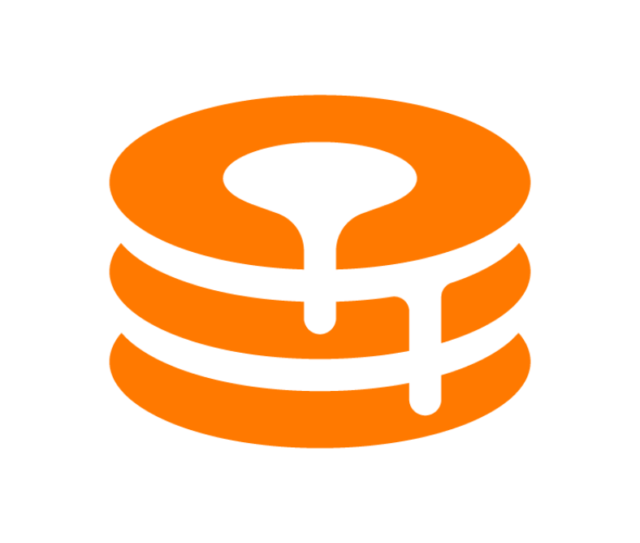 Maple Finance and Maven 11
AQRU customers now have the opportunity to invest in different Maple Finance Maven 11 pools, in both USDC and ETH, directly from their AQRU app.
The strategy of Maple Finance's Maven 11 pools is to lend to borrowers with capital-intensive businesses and a strong balance sheet. Maven 11 lends to creditworthy borrowers, starting with small loans, that grow in size as the borrowers' credit history builds. The full loan book of every pool is available online, so investors can view where their money is allocated at any point.
Collateralisation ratios can vary between 0 – 100%.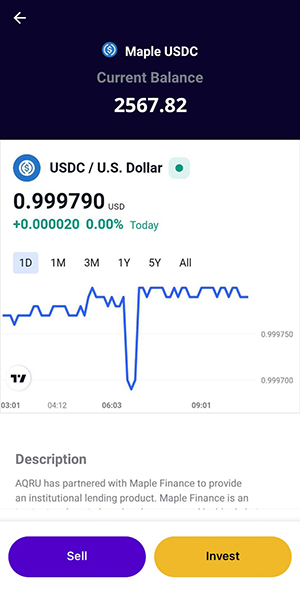 Market-leading yields
Earn 3% APY on your USDC and 2% on your ETH.
Transparent lending
Fee-free investment
There are no charges for investing in the AQRU Maple products.
Our Products
We currently have two Maple Finance products available for AQRU customers. Please note that Maple ETH is temporarily closed to new investment.
About Maple Finance
Maple is an institutional crypto-capital network powered by blockchain technology on a mission to redefine capital markets through digital assets, which makes it a natural partnership for AQRU.
Built on Ethereum and Solana, Maple provides the infrastructure for credit experts to efficiently manage fast-flowing lending businesses where pooled capital is lent to profitable crypto blue-chips. With more than $1.4 billion in TLI (total loans issued) Maple offers an ever-expanding range of liquidity pools open to lenders.

Transformed with tech
Maple is a tech platform that has smart contracts signed and blockchains sealed. Delivered frictionlessly, 24/7.

Growth focused tech
Growth-oriented experts and capital providers come to Maple to collectively build the future.

Free-flowing capital
Uncollateralized lending liberates businesses. Issuing flexible terms on-chain is immediate and more efficient than ever.
Built with institutions
Maple disrupts debt, but traditional due diligence and credit checks all stick. We've rebuilt the system much sweeter.
Why Choose AQRU?
The best of crypto, under one roof
There are great opportunities out there for crypto investors, but it can be difficult to find them, difficult to evaluate them, and difficult to access them. And that's why we created AQRU. Everything on our app has been created by us, or sourced from a partner that is vetted by us. Everything we do, we do with transparency and honesty. Crypto as we like it, and hopefully as you like it too.
Super Fast Funding
Our fast funding process allows us to complete most transfers in as little as an hour so that you can exchange or benefit from returns right away. With both fiat transfers and crypto-to-crypto transfers available, getting started with AQRU is simple. Some deposits can take up to 24 hours.
Authorised Virtual Assets Service Provider
AQRU is an authorised Virtual Assets Service Provider that strives to achieve the highest financial responsibility standards, so you can rest assured that your money is in good hands. With our innovative technology and unique platform, we are committed to helping our clients reach their financial targets.
Secure
If you're looking for a safe and secure way to invest your money, AQRU is the perfect solution. We protect your assets using innovative wallet technology and insure deposits to decentralised exchanges against hacking. With AQRU, you can rest assured that your investment is in good hands.
Security is #1 at AQRU
We take security very seriously to ensure that you have the tools to buy, hold and earn interest on your crypto as safely as possible. The AQRU platform uses encryption in transit, encryption at rest and address whitelisting to ensure that your money is safe whilst you invest and earn.
Bank-level security We've partnered with leading wallet infrastructure provider Fireblocks. Their battle-tested platform combines the latest breakthroughs in Multi-Sig technology to keep your assets safe.
Multi-layered deposit insurance We use a multi-layered insurance policy to protect the total value of your assets against hacking.
Account safety We've enabled two-factor authentication and biometric identification to make sure no-one else can access your AQRU account.