AQRU launches AQRU Ten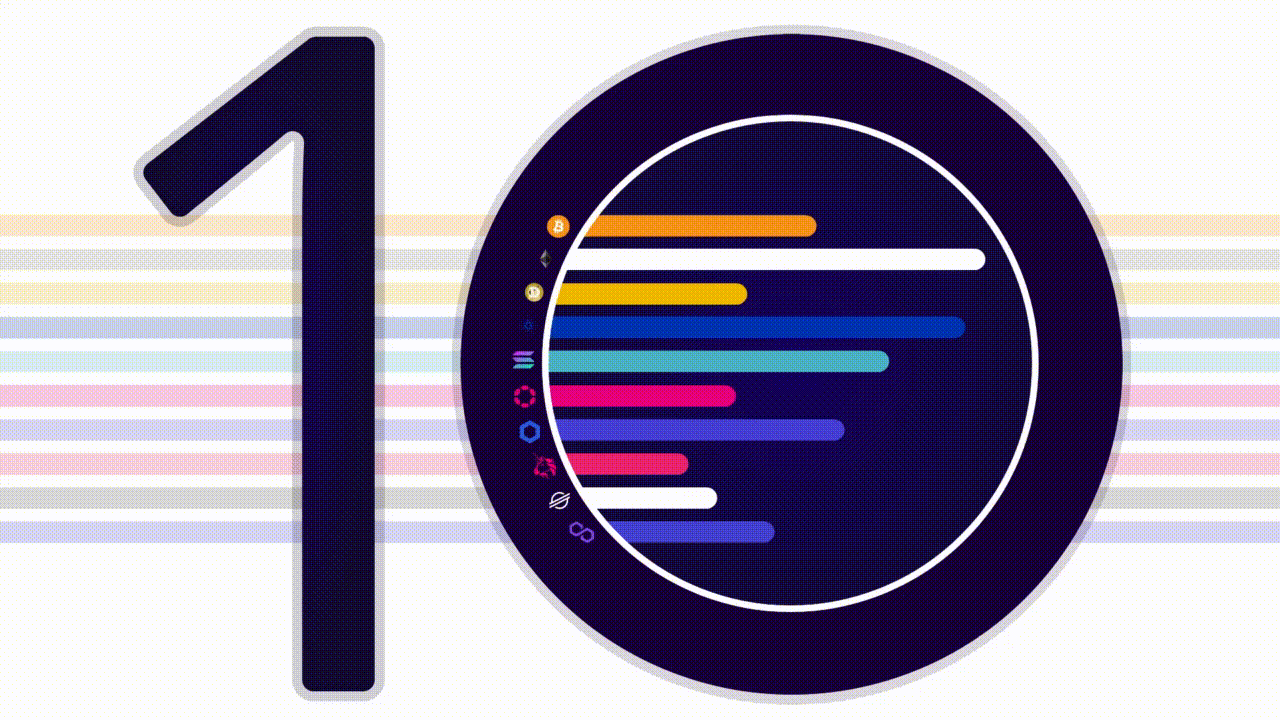 A crypto portfolio of the top ten cryptocurrencies*, weighted by market capitalisation and rebalanced weekly.
AQRU Ten, the newest product in our INVEST range, is a weighted basket of the top ten cryptocurrencies, designed to give you instant diversification in your cryptocurrency portfolio and enable you to benefit from the movement of the market as a whole, while helping manage the risks associated with investing in single coins. The cryptocurrency basket is rebalanced weekly to ensure it contains the highest-cap coins in the market, weighted according to their market capitalisation.
Investing in cryptocurrencies can offer opportunities for retail and institutional investors to generate significant returns. With more than 12,000 coins available in the market, however, it can be difficult to review how each token works and to build your portfolio based on this data. As a result, many retail investors have chosen to simply invest in a few, well-known individual coins which can not only lower their return opportunities, but it can also increase the risks associated with sudden price changes. Through AQRU Ten our customers can easily access a diverse portfolio of cryptocurrencies, ranging from market titans Bitcoin and Ether, through to smaller coins with a market cap that places them among the top ten cryptocurrencies. AQRU Ten does not include stablecoins, security tokens, and tokens constituting specified investments.
As well as helping investors diversify their cryptocurrency portfolio, we designed AQRU Ten to ensure that customers can easily manage their crypto assets, without having to worry about management fees eating away their revenues. All we charge is a fee of 0.35% when depositing or withdrawing funds into AQRU Ten, with no annual management fees or exchange fees when the basket is rebalanced. AQRU Ten doesn't have any lock-in periods, so you can withdraw your crypto at any time.
AQRU Ten is part of our efforts to enable investors to take advantage of all the opportunities available in DeFi. With this in mind, we designed AQRU Ten to complement AQRU Trend, our high-return strategy that uses a sophisticated algorithm to help you to capture market upside,  limit market downside,  and access the competitive returns available in the crypto market. While the cryptocurrencies used by both AQRU Ten and AQRU Trend are the same, each cryptocurrency basket is balanced differently to respond differently to movements in the market. Together, they provide customers with an impressive layer of diversification to their portfolios.
As our CEO, Phil Blows, says: "The crypto market offers excellent opportunities, but too often retail investors rely on just one or two coins, potentially missing out on the general movement of the market. AQRU Ten provides instant diversification, and the weekly rebalancing of the crypto basket allows investors to continually access the most exciting coins in the market. It shows our commitment to offering AQRU customers the very best of DeFi as we continue to strengthen our already impressive product offering."
Every week we will post an update of how the basket is rebalanced into our Twitter and Telegram accounts, so make sure you're following us to keep up to date with AQRU Ten's composition and performance.
* Excluding stablecoins, security tokens and tokens constituting specified investments.
** Past performance is not indicative of future results.
Capital at risk. You must be satisfied that this crypto offering is suitable for you in light of your financial circumstances and attitude towards risk. The price or value of cryptocurrencies can rapidly increase or decrease at any time. The risk of loss in holding cryptocurrencies can be substantial. Funds received by us in relation to cryptocurrency transactions are not safeguarded (under the UK Electronic Money Regulations 2011) or covered by the Financial Services Compensation Scheme. References to AQRU herein mean to Accru Finance Ltd. Use of AQRU's products and services is subject to our Terms of Use, which can be found at aqru.io.