AQRU launches AQRU Trend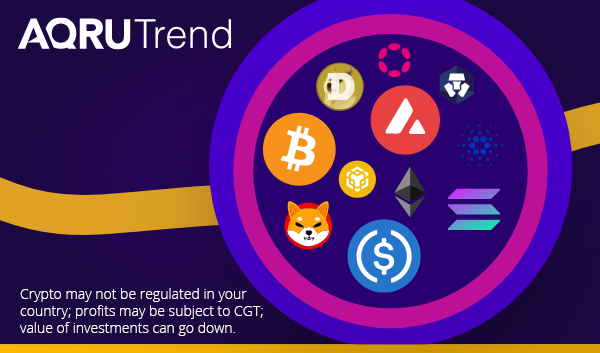 Unique high-return strategy with intelligent diversification for your crypto portfolio. Capture gains when the market rises. Minimise losses when the market falls, whilst earning a 0% yield. 
We are thrilled to introduce the first product of our newest INVEST range – AQRU Trend is now live.
With AQRU Trend you get easy access to a weighted basket of the top ten cryptocurrencies*, overseen by a sophisticated algorithm designed to outperform the market – and paying a 0% yield when not actively invested.
How AQRU Trend Works
With a few clicks, you're authorising the AQRU algorithm to purchase a weighted basket of the top ten cryptocurrencies* when there is positive market momentum, and switch into less volatile USDC as positive momentum in the market decreases.
Each week, AQRU rebalances the portfolio between coin weightings and USDC based on our algorithm's predictions. We take the guesswork out of investing by using a road-tested strategy that preempts market movement.
When the market is bearish, a higher percentage of USDC is allocated to the portfolio to protect your investment – and while your funds are in USDC they pay you a 0% yield, ensuring that you earn a return even when the market is falling. And when the market is bullish, the portfolio is re-allocated into cryptocurrencies so that you are able to benefit from potential gains as the market rises.
Every week we will post an update of the basket composition, and analysis around any changes, into our Twitter and Telegram accounts, so make sure you're following us to keep up to date with AQRU Trend's performance.
* Excluding stablecoins, security tokens and tokens constituting specified investments
** Past performance is not indicative of future results.
Capital at risk. You must be satisfied that this crypto offering is suitable for you in light of your financial circumstances and attitude towards risk. The price or value of cryptocurrencies can rapidly increase or decrease at any time. The risk of loss in holding cryptocurrencies can be substantial. Funds received by us in relation to cryptocurrency transactions are not safeguarded (under the UK Electronic Money Regulations 2011) or covered by the Financial Services Compensation Scheme. References to AQRU herein mean to Accru Finance Ltd. Use of AQRU's products and services is subject to our Terms of Use, which can be found at aqru.io.