How To Withdraw Money From Crypto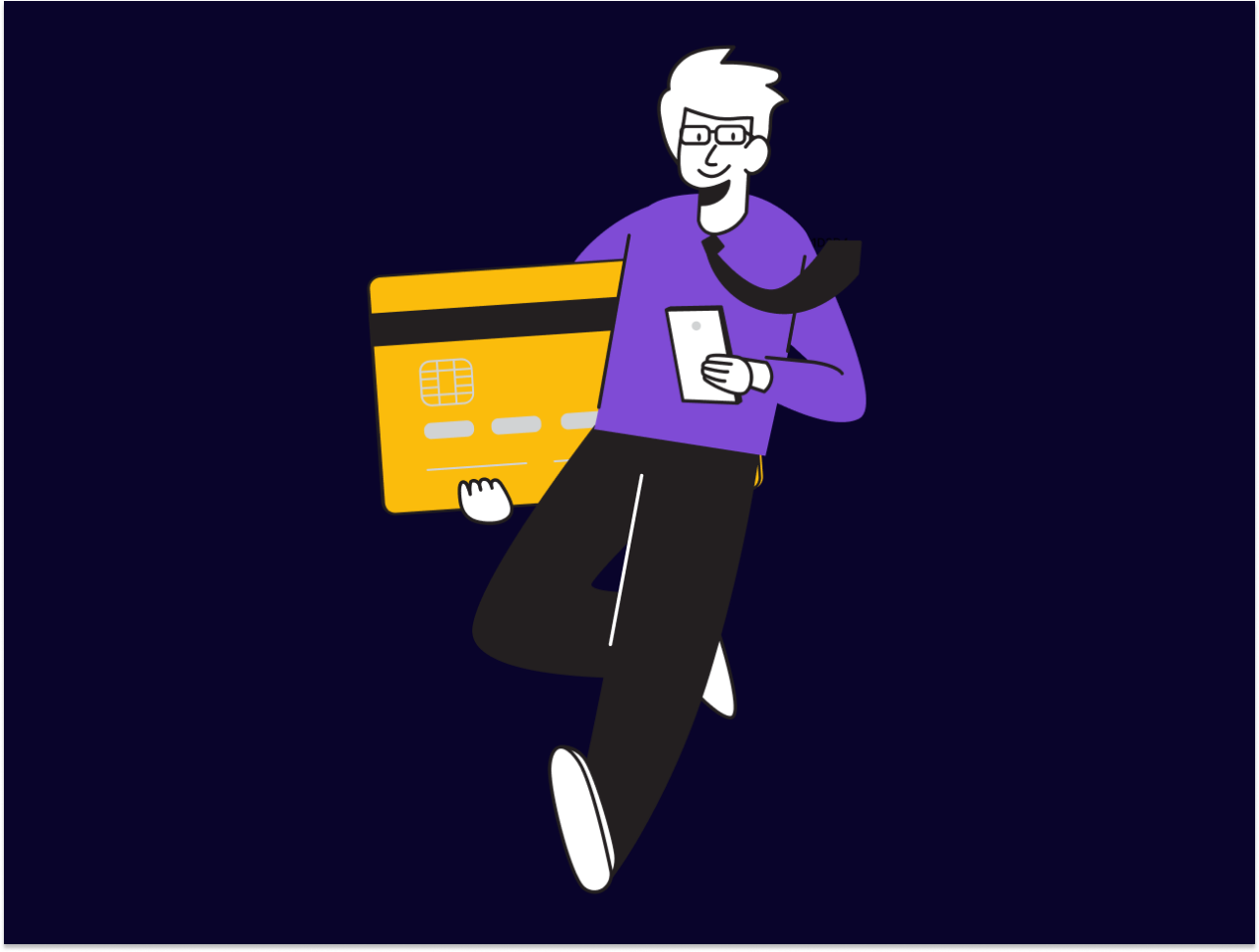 The days are long behind us when banks would close your account in fear if you so much as thought about depositing fiat currency from a cryptocurrency exchange.
Nowadays, the main problem to solve is whether the exchange or wallet you're using supports withdrawing crypto to a regular bank account (you would have to exchange it for your native currency first, of course).
Because withdrawing crypto in that way requires interfaces to the regular banking system; it's not something wallets offer as standard, though there are one or two that have this facility (it's called a "crypto off-ramp", btw).
AQRU, in contrast to most wallets, does offer easy withdrawal to fiat currencies, as well as allowing you to withdraw your crypto to your own wallets. Both of these options have no withdrawal minimum amount, which is nice. For most coins there's also no lock-in period: you can disinvest and withdraw at will.
So, what's the withdrawal process? We'll use the app to demonstrate. First of all, you have a decision to make. You can also use the step-by-step guides in our Help Centre for further guidance.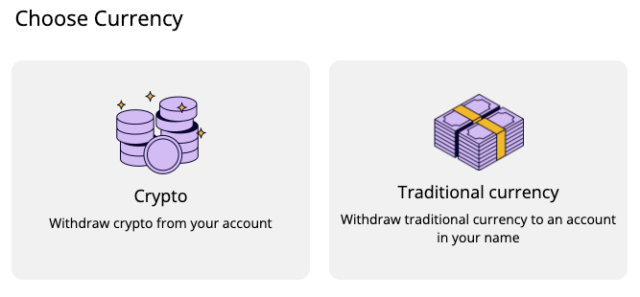 Withdrawing traditional currency ("fiat")
If you click on "Traditional Currency", you've got a choice: withdraw GBP through FPS ("Fast Payments Service") or Euros through SEPA.
It's vital that the account you're withdrawing to is in your name. This is for security reasons. And, you don't want to go giving your hard-earned rewards to someone else, do you?
So, what will you see when you click these promising buttons? Well, here's the GBP interface.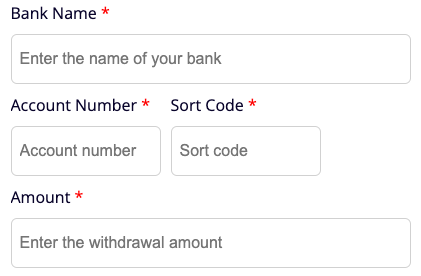 Using the fast payments service, you only need the name of the bank (e.g. "HSBC"), and the usual sort code and account number. And of course, the bank account needs to be in your name. That's a deal-breaker. The transfer should be more-or-less instant.
For Euros? Yes, a bank account needs to be in the EU and compatible with "SEPA" for this to work.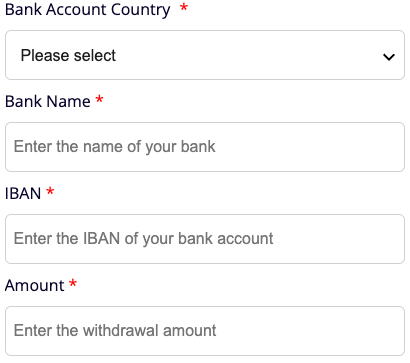 So, first, you need to select the country that your bank account is in. This needs to be a country that uses SEPA for payments.
Then, enter the name of your bank. This field isn't for your account name, that should always be the same as on your photo ID when you onboarded. If it isn't, the withdrawal will fail.
After that, it's time for the IBAN – "International Bank Account Number". This should be on your statement.
Finally, how much do you want to withdraw? A nominal flat fee will be deducted from the withdrawal amount, and the rest will be transmitted forthwith to your clutches.
Withdrawing crypto
When you're withdrawing anything in crypto, the most important thing is to make sure you're withdrawing it to the right place: that is, the right blockchain.
This isn't quite as straightforward as it sounds. For instance, Binance Smart Chain and ERC-20 Ethereum addresses share an address format, but ERC-20 is your friend.
Here's a summary of the address types you need for each token.
| | |
| --- | --- |
| Bitcoin | Bitcoin Blockchain |
| Ethereum | Ethereum Blockchain |
| USDC | ERC20 (Ethereum Blockchain) |
| USDT | ERC20 (Ethereum Blockchain) |
| DAI | ERC20 (Ethereum Blockchain) |
The same Ethereum ERC-20 compatible address should work for all of these except bitcoin, so your wallet only needs the one Ethereum address.
You can see from the withdrawal form that AQRU can't check whether you have the right kind of Ethereum-looking address: it just has to take your word for it. Funds sent to the wrong blockchain (such as Binance Smart Chain) will become inaccessible to you, so be sure to double-check.
Note that there is a flat fee with withdrawal equivalent to $10 for Bitcoin, and $20 for other cryptocurrencies. This helps cover transmission/gas fees which can be expensive at peak times.
Once you've filled in this form and confirmed your withdrawal, AQRU will initiate a transaction on the relevant blockchain. The amount of time this takes is dependent on how busy the network is: any transaction has to be "confirmed" by multiple computers before it's regarded as "done". It could take minutes, it could take hours, but at the time of writing, Bitcoin tends to be quicker!
Whichever coin you withdraw, you will receive a notification of the transaction by email. That email will contain a transaction number you can use to follow the transaction.
Blockchain.com (Bitcoin) and Etherscan (Ethereum) are good options to use. It's usually best to just let the process play out, though.
A quick note: in order to withdraw the sign-up bonus of 10USDC, you need to have a balance of 500 euro for at least 90 days.
Don't forget that crypto interest may be taxable!